Fair Oaks Repiping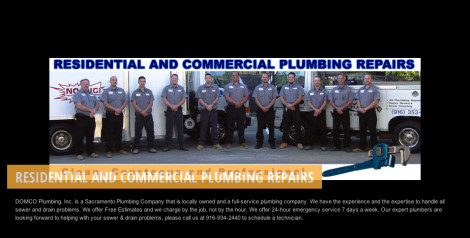 Fair Oaks residents, are you suffering from damaged plumbing? Domco Plumbing provides repair and re-piping services and we specialize in providing high-quality PEX Repiping. We offer fast and efficient repiping for residential galvanized pipe replacement in Fair Oaks, copper repiping in Fair Oaks and as repipe specialists in Fair Oaks, we also service commercial properties. As experts in the PEX repiping method, we can point out the difference between PEX and copper pipes.
The Premier Repipe Specialists In Fair Oaks
It can be pretty frustrating when you are having problems with the water supply. As repipe specialists in Fair Oaks, we can diagnose the problem anytime either the hot or cold water is not coming out of the faucet on demand. Whenever galvanized pipe replacement in Fair Oaks is needed, there are usually some signs that occur before this is determined. Usually, when pipes are completely worn out, the only option is a replacement. If there have been water flow problems such as water goes cold, low water pressure or rust colored water, these are usually signs that the pipes need to be replaced. If you are a home or business owner and or experiencing any of these problems, call today and schedule an appointment so that we can have our expert technicians diagnose the problem and pinpoint the exact cause.
Are You Experiencing Low Water Pressure?
For homeowners, old pipes can be a challenge, when there's rust colored water, or low water pressure, this can be due to an unknown leak. And if there's an unknown leak, it can often go unnoticed until there's an increase in the water bill. For Fair Oaks repiping, our fast, friendly staff expertly trained can quickly access the problem, locate leaky old pipes and replace the piping system. We provide galvanized pipe replacement in Fair Oaks. Our plumbers perform complete services for Fair Oaks repiping. We also offer copper repiping in Fair Oaks.
Your Choice For Copper Repiping In Fair Oaks
When older homes, have rusty, corroded pipes it often causes major problems because of the age of the home. If your home's plumbing system is out-of-date, it may need Fair Oaks re-piping to update. Old pipes make it difficult to perform household chores such as running the dishwasher or washing machine. Even taking a shower can be problematic because the water goes cold. Domco Plumbing can re-pipe outdated plumbing systems to ensure efficient water flow. For all your Fair Oaks re-piping needs, contact our office for a free assessment and estimate.