Fair Oaks Trenchless Sewer Replacement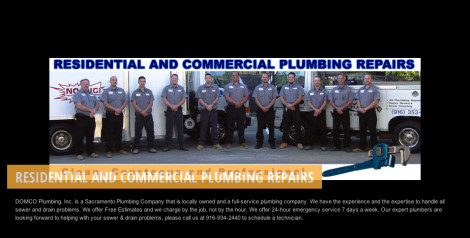 Our Fair Oaks trenchless sewer replacement team figures that now might be the time to let people know about a trenchless sewer replacement. Our Fair Oaks trenchless sewer replacement services just might offer the best alternative to the traditional, not so commonly looked forward to version of fixing or replacing a sewer line. The entire notion of replacing a sewer line likely does not create the most positive impression in a homeowner's mind. The reason is the homeowner is going to thing about workers digging up massive amounts of the earth to pull out sewer lines. The homeowner is probably also going to think of the significant time investment along with the high costs of such work.
Fair Oaks Trenchless Relining Is Good News For Homeowners
For these homeowners, good news exists in the form of ourFair Oaks trenchless relining, repair and replacement. Using techniques based on epoxy and CIPP (cured-in-place pipe) methods, a sewer line can be completely retooled without all the excessive, invasive, and costly procedures that were previously commonplace among sewer replacement professionals. The newer methods offer a viable alternative that clients may be a lot more comfortable with. Before any work is done on the sewer lines, a comprehensive inspection is going to be performed. The inspection will reveal the extent of the damage (if any) and will result in a recommendation being made as to the steps that should be taken regarding repair or replacement.
Trenchless Sewer Repair In Fair Oaks
How are the methods of our Fair Oaks trenchless sewer replacement performed? The answer depends on the type of work done. With the CIPP method, the pipe liner is installed in the sewer line. Basically, the liner is a resin coated tube that eventually hardens inside the original pipe. Once the resin is solid, a new lining in the sewer pipe exists eliminating leaks and other issues. One of the common resins used is epoxy, which is known for its very durable levels of strength. This form of trenchless sewer repair in Fair Oaks definitely is going to appeal to those that prefer their property is not dug up or damaged in any way.
Why A Trenchless Sewer Replacement In Fair Oaks Is Popular
Our Fair Oaks trenchless relining process can eliminate the need for the full and total traditional replacement of a sewer system. Our trenchless sewer replacement process in Fair Oaks is growing in popularity thanks to its deliver of an excellent and innovative new means of correcting serious problems that might exist in a sewer line. If problems are present, scheduling an inspection for our Fair Oaks trenchless sewer replacement service today is advised