Folsom Repiping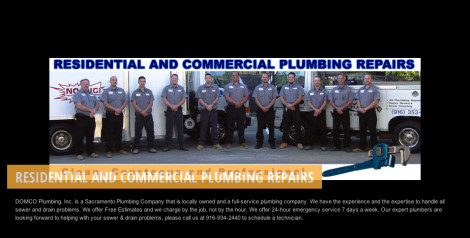 When Folsom water goes cold in your home and it will not heat up or you have rust colored water, you need of the best repipe specialists in Folsom. We are Domco Plumbing, your experts in Folsom repiping and repair. If your pipes are old and outdated or you need new galvanized pipe replacement in Folsom, we are the company you can turn to.
Your Choice For Repipe Specialists In Folsom
Low water pressure is a common issue with Folsom clients, and this can be directly related to outdated copper pipes. As a result, copper repiping in Folsom is another service we offer often to reduce low water pressure issues. With copper repiping in Folsom, we often replace the current copper pipe with more affordable and reliable PEX pipe so our customers can get the most out of their plumbing.
At Domco, we pride ourselves on being the best repipe specialists in Folsom, and we offer quick and reliable Folsom repiping for all our customers. We offer the best-galvanized pipe replacement in Folsom as well, so our customers know they can rely on us for all their needs. Folsom re-piping is what we do best, and we pride ourselves in the stellar work we do.
Are You Experiencing Rust Colored Water?
Repiping is the process of replacing pipes in your home, due to age or modern advances that require you to repipe your home. Folsom re-piping is done to help homes when the water goes cold and won't heat up, or rust colored water is plaguing our customers. We service the repiping needs of our customers all over the Folsom area and take pride in the work we do.
Our PEX Repiping Technicians Are Ready To Help
PEX repiping is something we do often, either in replacing current PEX pipe or replacing copper piping with more usable and reliable PEX repiping.. Replacing outdated pipes with PEX is a great option for homeowners who want a more modern appeal in their plumbing, and is an affordable material to use and work with. We can quickly repipe any home currently using or moving to PEX pipe easily, and with great results for our customers.
Give Us A Call Today For Folsom Re-piping
If you are in need of new pipes, allow us at Domco to do your Folsom repiping for you. Take advantage of the best repipe specialists in Folsom, and allow us to work for you and help solve all your plumbing problems.