Folsom Sewer Repair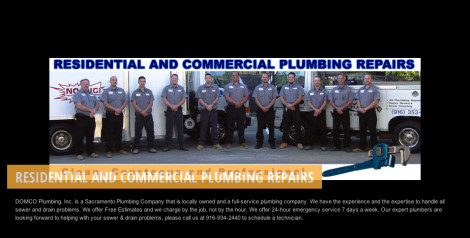 Folsom residents know that we often take it for granted how our bathroom and kitchen drain transports many things besides water, to our sewer system in our home. Sewers make hair, detergent, grease and oils from food and soap disappear from our sinks. However drains often become clogged with everyday use which can require our Folsom sewer repair service. One good practice to keep in mind is to arrange for a sewer inspection in Folsom to view how your systems drains and sewer are working. Doing this can save you problems later on that can be expensive.
When A Sewer Inspection In Folsom Is Recommended
A sewer inspection in Folsom is recommended if you are not sure of the plumbing history of your home, if your home is older than 20 years and or if the yard has trees that have been there for years. A sewer inspection in Folsom is recommended if you plan to purchase a home. Before finalizing a home purchase, the condition of its pipe system should be checked out to be sure that it will not need our Folsom sewer repair.
A Sewer Repair In Folsom Uses Various Methods
Not only will our Folsom sewer inspection process provide a clear view of your system's drains but it can clear up any blockages. If the drain requires sewer repair in Folsom there are various methods to use such as relining, hydro-jetting or a sewer replacement. In order to clear obstructions or debris and help the line move quicker, often hydro-jetting is done with its pressurized jet spray.
When It Requires Our Folsom Sewer Cleaning Service
If the sewer requires a reline, it won't require digging. The liner is connected to the sewer interior while it becomes hard. This provides a solid line free from cracking or shift over a period. Modern Folsom sewer repair methods and any repairs are PVC, unlike older pipes made out of cast iron. After piping is placed, trenches are filled and seeds are put into place on the lawn. Usually no one will think about their home sewer system until something is improperly working and they require our Folsom sewer cleaning process. Accidents happen such as a toy that is flushed inside a toilet or tree roots that have begun to grow into the drains in your yard. Investing in our Folsom sewer inspection in the future will help to prevent any possible problems. By doing this you can avoid our Folsom sewer repair service and have peace of mind.