Placerville Repiping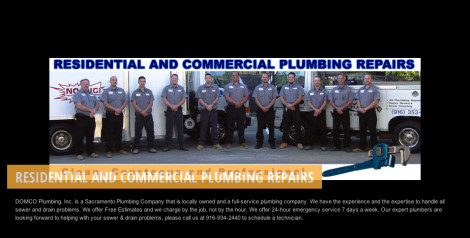 In Placerville, there may be a host of symptoms alerting a homeowner that they need Placerville re-piping. At Domco Plumbing we can help you to determine if it is time to use the
repipe specialists in Placerville at Domco. You will have some options when it comes to the repiping process. PEX Repiping is one option as well as galvanized pipe replacement in Placerville. Another option will be copper repiping Placerville. It will be up to you to look at all of your choices before you make your final decision.
Do You Need PEX Repiping?
Some of the symptoms that you may need new pipes include low water pressure, rust-colored water, and water goes cold. When you use Placerville repiping all of the problems you are experiencing will be resolved. Placerville re-piping by Domco Plumbing will last for many years to come and you will never deal with low water pressure, rust-colored water, and water goes cold again.
Our Repipe Specialists In Placerville Are Here To Help
Our repipe specialists in Placerville can provide you with a great deal of information about all of your options when it comes to the repiping process. You can learn more about the benefits of PEX repiping., galvanized pipe replacement in Placerville and
copper repiping Placerville. This can allow you to choose which options are right for your home based on the needs of your house and your budget. Each option will have a different price allowing something for all budget requirements.
Are You Experiencing Low Water Pressure?
If you notice colored water, or even low water pressure, this is the time to contact our specialists at Domco Plumbing. There can be an assortment of issues that may be fixed with an easy repair. If you have problems with a hot water heater, this is something that we can also help you with. Sometimes repairing, or replacing a water heater can be the solution for your home.
Call Us Today For Galvanized Pipe Replacement In Placerville
If you have any questions regarding the repiping process, our team at Domco Plumbing can answer any questions you may have. This can be a major job in the home and one that your ordinary plumber may not be able to handle. Our team has a great level of experience with all phases of the repiping process. This experience can really count if you find that you are in a position where the pipes need to be replaced in your home with Placerville repiping.