Placerville Trenchless Sewer Replacement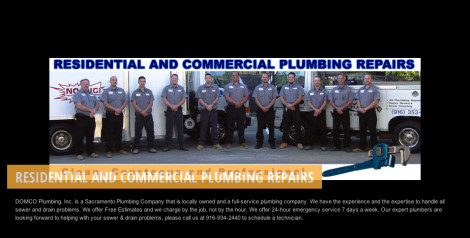 Placerville homeowners, has your sewer pipe been leaking and backing up on a continuous basis? The reason could be that your cast iron pipes are cracked or broken and roots from nearby trees have started growing into the cracks. When you call up your plumber for this, they would excavate and take out your pipes. That is a lot of hassle, especially when you can use our trenchless sewer repair process in Placerville. After inspection of your pipe, if our plumbers find out that a trenchless sewer repair is not an option, they would offer you our Placerville trenchless sewer replacement service.
Go For Our Placerville Trenchless Relining Service
Even with this, you have two options. You can either opt for our Placerville trenchless sewer replacement or you can go for our Placerville trenchless relining process. This trenchless relining would be done with the help of Epoxy after a video inspection. The epoxy resin is a self-heating material which is extremely popular for relining lines during a trenchless sewer replacement in Placerville. For pipes where the diameter is less than 48", we recommend that you use CIPP pipe lining. CIPP or cured in place pipe is used in the majority of US households.
What Happens When You Choose A Trenchless Sewer Replacement In Placerville
• No Time Wasting – CIPP and epoxy lining take mere hours to finish and with the help of our superior and trained staff, your work would be done quickly. Thus, you can save yourself weeks of time that would have been spent if you had not opted for a trenchless sewer replacement in Placerville.
• Cheaper – Actually, trenchless sewer replacement is much cheaper than the traditional options. This is because in traditional options, a lot of time, energy and efforts have to be spent by the plumbers in digging plus pipe replacement the traditional way. With trenchless replacement, you do not need to excavate, break any walls and destroy basements or landscape. The cost automatically comes down and even for that lower cost, you get better services.
• Cleaner – No mess is created in trenchless sewer replacement, unlike traditional sewer replacement. This is why it is preferred by not just residential complexes but also commercial buildings, hospitals, factories etc.
• No Downtime – Because the work is finished in a matter of hours, you do not have to pay any downtime costs because of our Placerville trenchless sewer replacement.
The Best For Trenchless Sewer Repair In Placerville
We are the best for trenchless sewer repair in Placerville. For any doubts and inquiries, you can call our Placerville trenchless sewer replacement team, email us or use the contact form provided on our website.