Rocklin Repiping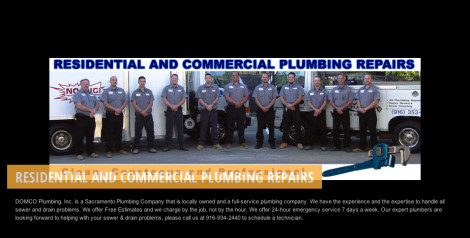 In Rocklin, our Domco Plumbing technicians have an outstanding track record for our Rocklin repiping services. Our team can handle any plumbing troubles, including low water pressure, which is a common concern among residents in Rocklin. We're experienced in galvanized pipe replacement in Rocklin along with plumbing troubleshooting. It doesn't matter if our customers need a complete Rocklin re-piping to improve the water supply; we're the right fit. PEX repiping offers an exclusive upgrade to stop slab leaks, rust-colored water, among other pressing concerns. It's imperative to correct poorly regulated water pressure as it's often a sign of a leak somewhere. If the hot water goes cold quickly, repiping is something to consider. Our plumbers have an eclectic background in different specialty areas. We're a reliable brand and our specialists are knowledgeable copper repiping Rocklin repairmen.
Our Repipe Specialists In Rocklin Are Prepared To Help
This isn't something to judge based on tell-tale. Our plumbing technicians need to know the pipe and house size (main water-pipe length) and details about the fittings and fixtures, etc. It's a necessary step to give a correct estimate for Rocklin re-piping. Some other variables play a role in the process, but the ones highlighted above are the key factors. Our plumbers will do a clean job without affecting the home's existing structures.
If Your Water Goes Cold, Contact Our Professionals Today
We promise to complete every job like a professional. Making sure to never leave a mess to make sure the replacement pipe or fixtures work correctly. Our plumbing specialist exercise care in both demolition and restoration to keep the construction looking beautiful, even after PEX Repiping. It is important we educate buyers about the process of plumbing a galvanized pipe replacements in Rocklin. This is the approach we've taken to help them make an informed decision.
Your Choice For Copper Repiping In Rocklin
Our specialists are knowledgeable and equipped to handle anything that may come up during the repair process. From wall patching, painting, and much more our team have your back. Another advantage of having us on your side is it saves you money. We offer many helpful plumbing materials to save you money. Complete pipe upgrading and installation is not a time-consuming project for a specialist from Domco Plumbing to complete a Rocklin repiping project. They're the right fit to correct all problems, including low water pressure, rust-colored water, and other plumbing concerns. It's a problem when these minor issues go undetected or ignored for a prolonged period. Click to call Domco Plumbing in Rocklin for an estimate today.