Rocklin Trenchless Sewer Replacement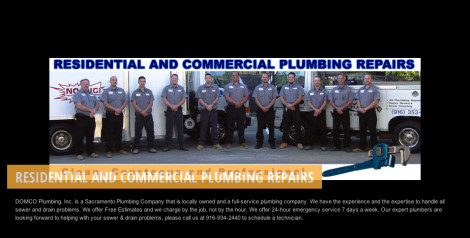 Our Rocklin trenchless sewer replacement system is an easier way to fix your plumbing system without digging a big hole. Many American sewer systems were built in the 1950s and have outlived their expected life span of 40 years. Over time, sidewalks, gardens and porches are built on top of the sewer line. Here is how our Rocklin trenchless relining system is preferable to the large excavated trench.
No Digging up Your Lawn With Our Trenchless Sewer Repair In Rocklin
The traditional way to fix your faulty sewer is to dig up your entire lawn. First, you must call the utility company to mark underground lines. Second, you need a trencher or excavator to dig deep trenches. This could damage your landscaping, sidewalk or tree roots. Some lawns never fully recover from this destructive process. Our Rocklin trenchless sewer replacement process is a less-invasive process. Our trenchless sewer repair uses a microscopic camera for the inspection of your old pipes. Although you might have foul-tasting, discolored water, you might not know the exact cause. It could be pinhole leaks, tree roots or lead leaching from old pipes. Damaged pipes can lead to mold growth, rust, insects and rodents. Once we have diagnosed the problem we would discuss if you need a trenchless sewer repair or a complete replacement.
We Use The CIPP Process
We have a number of trenchless sewer replacement techniques: pipe dragging, CIPPor epoxy. A trenchless sewer repair can be similar to how fiber optic cable are placed in the ground. A small hole is dug and hydraulic machines drag a brand new fully-deployed pipe through your old pipe. Another Rocklin trenchless relining method is the cured-in-place-pipe (CIPP). This involves a multiple step process. First, a flexible epoxy-soaked membrane made of polyester is pushed, shot or deployed from your house to the public sewer connection point. Second, our Rocklin trenchless sewer replacement team member sends a heater calibration tube through the membrane. Third, this tube is inflated to fill the old pipe. Fourth, the tube is heated to "cure" or "harden" the membrane turning it into a solid pipe.
Epoxy Relining Is Used For A Trenchless Sewer Replacement In Rocklin
A trenchless sewer replacement in Rocklin also offers epoxy relining. This uses a resin solution to plug the holes in your existing pipe. Our Rocklin trenchless sewer replacement avoids damage to your property.