Roseville Drain Cleaning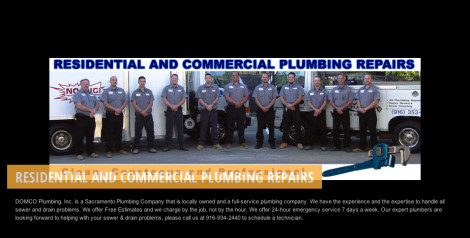 Our Roseville drain cleaning service may be required for a homeowner that recognizes a slower flow of circulation within their water systems. As the drain pipes of a home are constantly utilized on a regular basis, every day for a great majority of people, the pipelines interconnected to the systems become prone to being affected by the effects of wear and tear. Not only can pipelines corrode and rupture, they can also accumulate a great amount of dirt and bacteria if the proper steps of maintenance aren't taken. But that is where our Roseville drain cleaners can help.
Roseville Drain Cleaners: We Are Well Reputed
Our Roseville drain cleaners are well reputed within the community for providing homeowners with what they need in regards to their homes. Our drain cleaning service in Roseville will assure clients that their home's drainage systems are back to their original days of when they were first installed into the home. Therefore, our Roseville drain cleaning professionals are always prepared to take on the tasks of cleaning, repairing, replacing, and installing drainage system components within the households of the people in the community. Whatever you need with your drains, our Roseville drain cleaning can do for you.
Rooter Service In Roseville: We Work On Getting To the Core Of The Problem
A rooter service usually works on getting to the very core of a drainage system's issues. Many times, the drainage systems will be accumulated of dirt, sludge, debris, and particles in areas where they are near impossible to reach. Even the harshest chemicals may not be strong enough to eliminate certain clogs. Our Roseville drain cleaning company is equipped with the proper tools and equipment to safely disassemble and reassemble the drainage pipes, ensuring clients that there is no more clogging to worry about. Our Roseville drain cleaners are very professional and efficient.
Our Drain Cleaning Service In Roseville Is Needed
Oftentimes, a drain cleaning inspection may be all that is needed to alleviate a small issue within the pipelines. Therefore, a simple dislodging movement may do the trick. However, many people may not be able to recognize this due to its placement within the drainage system. A simple inspection by our Roseville drain cleaners may completely rid the homeowner of all of their problems. That means our drain cleaning service in Roseville is conducted with precision and accuracy to ensure current and prospective clients that all of their home's components will remain in their working and stable conditions.
Contract With Our Roseville Drain Cleaning Company
A rooter service pro can be scheduled by contacting our Roseville drain cleaning company. There is no safer option for homeowners, as they are highly skilled, experienced, and trusted within the community with a reputation that has been earned through years of hard work, diligence, patience, and perseverance. So give our Roseville drain cleaning staff a call today.