Roseville Sewer Repair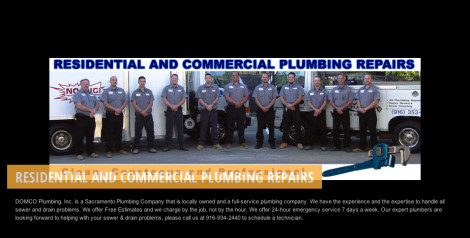 Our Roseville sewer repair options and services aid homeowners who have problems on their property. The sewer line must be checked by a Roseville sewer inspection team, and our teams are the best in the business. While there are many things that could be wrong with the system, a sewer inspection in Roseville that is done by one our crews helps to ensure that the right problems are fixed. Once our sewer repair team in Roseville is able to replace lines, repair broken pipes and fix accessories that keep the line working properly.
Leaks In The Line? Call For A Sewer Inspection In Roseville
Our sewer inspection teams in Roseville can check the line of any homeowner who feels that there is a problem at their home. The team will check every part of the line to ensure that it is working properly. Once the team discovers problems, they will complete their inspection and determine the best steps to get the repairs done. When there are leaks in the line, the piping can be repaired with trenchless technology. Also, our Roseville Sewer repair teams can easily cut out and replace a section of pipe that is defective.
Faulty Piping? Let Our Roseville Sewer Replacement Team Work For You
There are many instances when faulty piping and materials were used to build a sewer line. Our sewer repair teams in Roseville can also perform a Roseville sewer replacement job as well. This allows for the entire line to be changed when there are defective materials at play. The replacement of the entire sewer line allows the property owner to have peace of mind. New sewer piping that is up to code is much safer for the family. Our Roseville sewer repair works hard to satisfy you.
Our Roseville Sewer Inspection Team Will Get Rid Of Those Dirty Lines
When the sewer lines are clogged, our Roseville sewer cleaning crew can access the sewer lines and begin to clear them out. With our sewer cleaning crew, advanced technology is used to ensure that the line is cleared of all clogs. Once the line has been cleaned, the flow of the sewer line and pressure in the toilets will return to normal. Our Roseville sewer inspection teams begin the process by checking for problems. Our sewer replacement teams can replace sections of pipe or change out the while system, and we guarantee that customers will be satisfied with our work. We want customers to have working plumbing at home, and our Roseville sewer repair experts use our repair services to provide just that.