Roseville Trenchless Sewer Replacement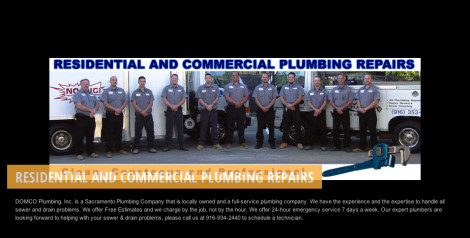 In Roseville, due to new technology, sidewalks and landscapes are no longer torn apart when trenchless repairs are made. Today, a trenchless sewer repair in Roseville is accomplished by making smaller holes for access and less damage. With our Roseville trenchless sewer replacement methods, your home sewer line can be repaired and it will not wreck your landscape. Instead of digging a long ditch through your yard, our trenchless sewer replacement technology makes it possible for sewer pipes to be placed under your house yard, ensuring that your yard is not disrupted.
The Techniques Of Roseville Trenchless Relining
The method is done using two techniques known as Roseville trenchless relining and pipe bursting. Our Roseville trenchless relining team uses the latest methods to make repairs to trenchless sewer pipes which usually can be done within one day. This new process relines the inside of old sewer lines while a new pipe inside the original pipe remains.
We Implement The CIPP Method
The unique method of implementing a trenchless sewer pipe reline is referred to as CIPP or Cured in Place Pipe. The CIPP technique requires the placement of supple PVC based material, which is treated by an epoxy resin on the outside. This is then transferred in the old sewer along with a loosening air pressure to ensure that the side coated with epoxy presses up against the inside of the original sewer line.
How A Trenchless Sewer Replacement In Roseville Is Done
As soon as a seal is in place and an inspection is completed, the replacement pipe is placed tight and pressed against the inside of the original pipe. As the epoxy becomes hard during a trenchless sewer replacement in Roseville, it reveals a new sewer pipe which is seamless. This will prevent any potential roots from disrupting the sewer lines. If any cracks exist in the sewer line, they will be sealed securely by this unique method and this secure sewer line will have a smooth flow.
Reduce Your Costs With Our Trenchless Sewer Repair Method In Roseville
Epoxy used in the sewer lining is a newly introduced method. This sewer repair process is now used often by professional technicians. This improved system for pipe liners was established in order to avoid the need to excavate when drainage issues exist and to reduce costs for a trenchless sewer repair in Roseville. After an inspection, this type of pipe liner will cover several different piping sizes. The new lining methods are appropriate for trenchless sewer replacement in Roseville. So call today for our Roseville trenchless relining process today.