Sacramento Drain Cleaning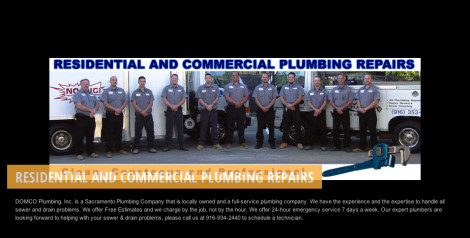 Our Sacramento drain cleaners know that a clogged drain is not always a minor problem. Quite frequently, a clogged drain can actually lead to major damage in the interior of a property. Even a slight overflow from a clogged drain can cause such problems which is why the first indication of problems with the drain should be taken seriously. Our Sacramento drain cleaning company is more than capable of examining the problem present with the drain and then performing the necessary work capable of eliminating any major clogs. If needed, our rooter service in Sacramento might be required if the drain is severely clogged. With the right company handling the task, even the worst drain clog can be cleared. And who better than our Sacramento drain cleaning company.
Drain Cleaning In Sacramento
Hoping to clean a drain solely by using a plunger or a liquid drain cleaner is not going to be enough when the pipes may be filled with solid matter that is stuck and rooted in. As any long time worker with our drain cleaning company in Sacramento will point out, many strange things can get inside of a drain. Once the materials find its way into the drain, it's not going to come out or break away on its own. This is why the drain becomes severely clogged and only our professional Sacramento drain cleaners are going to be able to do the work required to restore the drain to its original condition.
Sacramento Drain Cleaning
Our Sacramento drain cleaning experts can be called on even when there is an emergency situation. As anyone realizes, when an emergency arises, a quick response is going to be a must. Our well established drain cleaning service in Sacramento can send someone out to the site of the plumbing mishap as quickly as possible. Once the drain cleaning professional does arrive, work on the drain will commence immediately. Hopefully, soon after, the drain will be cleared out by our Sacramento drain cleaning experts.
Our Sacramento Drain Cleaners Charge Fair Rates
There might be early signs that a drain problem is eminent. Horrible smells may be coming up from the drain or water circles the drain a long time before going down. These minor problems may actually be major ones and our rooter service in Sacramento might have to be called in to clear out the issue. Our well established Sacramento drain cleaning company can deal with any problem be it big or small. Our Sacramento drain cleaners also charge fair rates for their work. As such, anyone with a serious problem should look at hiring our pros from our Sacramento drain cleaning service.