Sacramento Repiping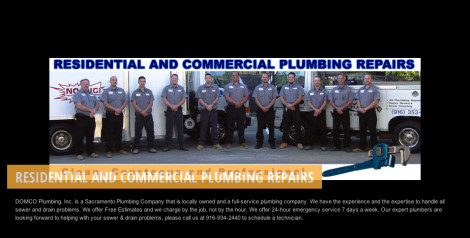 In Sacramento, the pipes are parts of the home that most people take for granted. Many people do not even realize that they need Sacramento repiping. There are several signs that indicate you are in need of Sacramento re-piping. You need to contact our repipe specialists in Sacramento at Domco Plumbing if you notice rust colored water. Rust colored water is a sign that your pipes are getting ready to corrode and deteriorate. Low water pressure is another sign that galvanized pipe replacement in Sacramento may be necessary. In many cases, low water pressure is caused by the buildup of corrosion inside of the pipes. The corrosion can restrict the flow of water. If you are in need of our services give us a call today at 916.353.0203 to schedule an appointment.
Are You Looking For PEX Repiping in Sacramento?
PEX repiping in Sacramento may also be necessary if you notice a leak coming from the pipes. It can be very difficult to find what is causing the leak. A leaky pipe can cause serious damage to your home. That is why a plumber may recommend PEX repiping. Additionally, if your water goes cold while you are taking a shower, then you may need Sacramento re-piping.
The Premier Galvanized Pipe Replacement In Sacramento
You may need galvanized pipe replacement in Sacramento if your pipes are old. Pipes can last anywhere from 20 to 100 years depending on the type. Your geographical area is another thing that determines how long your pipes will last. Some areas have hard water. Hard water can do serious damage to your pipes because it is very acidic. That is why they may not last as long.
If Water Goes Cold, You May Need Our Help
If your water goes cold when you take a shower, or you need copper repiping in Sacramento, then you should contact Domco Plumbing. Domco Plumbing has a team of competent repipe specialists in Sacramento. One of the most helpful services our company offers is emergency service 24 hours a day, seven days a week.
Ask About Our Sacramento Whole-House PEX Repiping
One of the reasons Domco Plumbing is so popular is because we offer excellent Sacramento whole-house PEX repiping. We want all of our customers to have an oppurtunity to have exceptional plumbing in their home and that is why we offer this option. A whole-house PEX repiping in Sacramento is more affordable than a job completed with copper pipes. It may not have the longevity of a copper repiping but it will provide your home with better plumbing and PEX pipes are much quieter.
Call Our Sacramento Repipe Specialists Today
You may be concerned about the cost of Sacramento repipe specialists. However, if you choose Domco Plumbing, then you will be able to get PEX pipe replacment in Sacramento done for a price that you can afford. We believe that since Sacramento repiping is such an important task, it should be done for a reasonable price. To schedule a service from the repiping service pros that you can trust give us a call today at 916.353.0203