Sacramento Sewer Repair When You Need It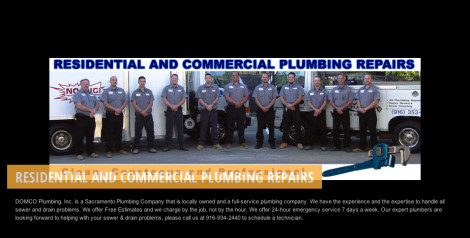 Sacramento residents know to look towards us when searching for Sacramento sewer repair service.  We have been offering sewerage installation, replacement and repair services for a long time now. Through the years we have been in the industry, we have maintained an incredible record. We promise to help you restore the functionality of your sewer within a short period of time. It doesn't matter whether you need our Sacramento sewer repair or sewer replacement services. Our qualified experts have skills that will solve all your problems. In fact, we have always believed in diversity. That's why we are always hiring qualified experts in various plumbing fields. We can therefore help you restore the functionality of your sewer.
Our Sewer Repair Staff In Sacramento Don't Believe In Mediocrity
At our sewer repair company in Sacramento, we don't believe in mediocrity. We have always believed and continue to believe in excellent results. We ensure that you are satisfied all along. That's why we have put in place mechanisms to help you whenever stuck. For instance, we have open communication system, excellent customer care service and professional staff. We are always ready to hear and help you as much as possible. Call our sewer repair staff in Sacramento and we will come help you.
Our Sewer Inspection Team In Sacramento Is Always Available
In addition, we offer emergency services. We don't believe in working just during the day or weekdays. We believe in delivering services when you need them. We are available for our sewer inspection in Sacramento at any given time of the day or night. You don't have to wait until the next weekday before receiving services. Our sewer inspection experts in Sacramento are always on standby to help you. All you need to do is call us at any given time.
Sacramento Sewer Inspection
On top of our 24hr Sacramento sewer inspection service, we also offer high quality sewer repair in Sacramento. We ensure that you won't need to call us again for the same problem. We always instruct our experts to offer professional services to ensure that your sewer serves you well. In addition, we provide you with a platform to complain if there is any problem. If you are not satisfied, you can always air your reservations through our available communication channels. Our Sacramento sewer repair company will try to satisfy you in any way.
Sacramento Sewer Cleaning
If you have any plumbing problem, do not hesitate to call. Our experts are there to help. Our Sacramento sewer cleaning professionals will inspect the situation and offer solutions. Our Sacramento sewer cleaning professionals will then clean your sewer and enhance the flow of waste materials. Generally, our sewer experts will help you solve all your sewerage problems. Remember that we don't "waste" time. We respond quickly to your distress call. Why wait when you can get our Sacramento sewer repair service within a short period of time?