Sacramento Trenchless Sewer Replacement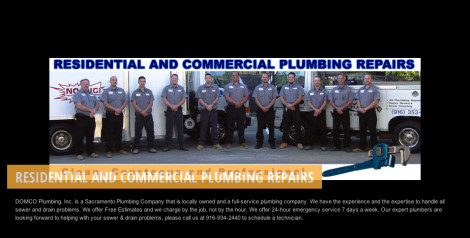 When it comes to Sacramento trenchless sewer replacement and repair services, you can always count on Domco Plumbing. Each of our sewer specialists has the training, experience, and licensing necessary to handle any trenchless job they come across. From your initial inspection to using your new sewer line and everything in between, we have you covered. We always come highly recommended by our droves of satisfied customers, and we've even received an A+ rating from the Better Business Bureau! So, if you need help with Sacramento trenchless sewer repair or replacement, then you've come to the right place! Contact us to schedule an inspection or service call today!
We Offer Free Video Inspection Before Every Trenchless Sewer Replacement In Sacramento
Most contractors in Sacramento offer free video sewer inspection so that they can identify the cause of the sewer clog. Trenchless sewer replacement is provided as an alternative to traditional sewer repair. Our trenchless sewer replacement process in Sacramento is the process of pulling a new sewer pipe through the old sewer lining without digging up the entire pipe. Our experienced techs will dig an access point at both ends of the sewer line and replace the sewer pipe without a trench. The latest technology used allows quick performance with minimal damage to landscapes, especially by digging long and deep trenches. After our Sacramento trenchless sewer replacement team is finished, you get to enjoy the backyard or garden instead of waiting days later.
Trenchless Sewer Repair In Sacramento
Our trenchless sewer replacements in Sacramento require a lot of skill and awareness. For instance, during the process, we expose water, gas, and electrical lines. There may be situations where lines may need to be cut or relocated. The entire process depends on how and where the original sewer was installed, the repairs that were made in the past, and the nature of previous damages. The pricing of sewer replacements is based on several conditions which mainly include the following:
The sanitary district
Number of holes that need drilling
How deep the holes are
Surface areas that need restoration
Site conditions
Authoritative conditional approvals
Contact Us For Trenchless Sewer Repair In Sacramento Today!
Here at Domco Plumbing, we pride ourselves on being the go-to trenchless sewer repair and replacement company in the area. The trenchless process is fast, affordable, and far less invasive than traditional sewer repair and replacement services. So, what are you waiting for? If you need sewer repair or replacement, then why not try the trenchless method? Contact us to schedule an inspection, estimate, or trenchless sewer service call today!